The city of Guangzhou is the third largest in China. In December 1994 it became the second, after Shanghai, to order a new light-rail system. This city of 7 million inhabitants is situated in the South near Hong Kong. Construction of a subway network was approved in 1989 and construction started in 1993.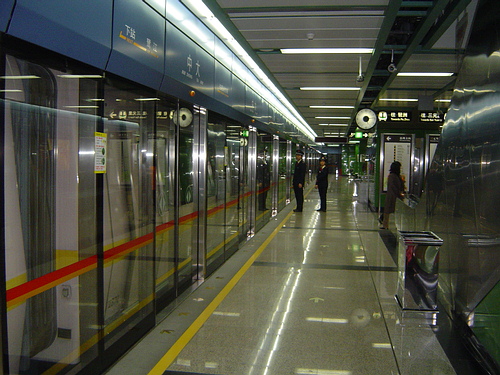 Guangzhou metro (Penetron photo)


With an estimated completion date of 2010 and an expected total of more than 16 lines and projected total costs of more than US billion dollars, the Guangzhou Metro (GZM) will offer its citizens the latest in metro technology and efficiency.

Building an underground metro in this city is no simple feat. Guangzhou is a port city straddling the mighty Pearl River where water tables and waterproofing are high on the list of concerns for the engineers of the GZM. Due to the varied soft ground conditions nearly all the main modern tunneling methods were employed: shallow mining methods, shield driven tunnels as well as cut and cover methods. Part of Line 5, currently under construction, will even cross the Pearl River. To achieve this, the Metro will be constructed in a 457m immersed tunnel.

With such a wide variety of tunneling methods being used, it is no wonder the engineers needed to incorporate time tested and proven waterproofing solutions that met their specific needs. Penetron Admix was approved to be added to the fresh concrete to address some of these waterproofing concerns. By using Penetron Admix in the concrete, engineers are assured that they are receiving the best protection in concrete admix waterproofing technology. This also addresses other logistical concerns such as time saved by not having to install a membrane or drainage system or delaying backfilling operations as a result.

To date, some 70 tonnes of Penetron Admix has been successfully used on the GZM.

"The Guangzhou Metro is a testament to Chinese engineering prowess and Penetron is proud to be working with such inspired people" stated Robert G. Revera, CEO and Managing Partner of ICS Penetron International, Ltd, "We are pleased that Penetron has been given the opportunity to help preserve the Guangzhou Metro for the City of Flowers for many generations to come."

ICS Penetron International, Ltd., is a leading manufacturer of integral crystalline waterproofing and repair products for concrete with a manufacturing and service network that spans more than 60 countries.