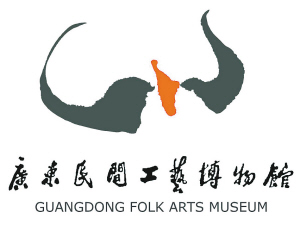 The logo of the Chen Clan Temple has recently been unveiled. It features a design of letters "ch" shaped like a fluttering bat.

The logo has been designed by Li Wenfeng and Cai Hanyu, two recent graduates from the Guangzhou Academy of Fine Arts. According to the designers, the artistic bat image represents "happiness" as in the Chinese language "happiness" is a homonym of "bat". They said that their design has been inspired by the omnipresent decorative bat image in the temple.

In the logo, the letters "ch", which are the first two letters of both the family name "Chen" and the country name "China", are used to represent both the famed Chen Clan Academy and the Chinese nation. As stone carving is the most prominent feature of the temple, inscriptions found on drum-shaped stone blocks dating back to the Qin Dynasty have been used to create the primary lines in the logo in order to give a sense of solemnness and age to the historic temple. The logo primarily features a livid color, complemented with a touch of vermillion, symbolizing "great happiness". The logo also contains the inscription "Guangzhou Museum of Folk Arts and Crafts" by he late prominent historian Guo Moruo.

Chan Clan Temple officials stated that they plan to solicit creative designs from the public for special souvenirs and gifts for promoting the temple's cultural image.



Editor: canton fair